I see a tumour as acting like a foetus, this is not new as many researchers both mainstream and alternative descibe cancer in exactly the same way….The Trophoblast Theory of Cancer is now over a hundred years old, this theory describes Cancer cells as behaving like the invasive Trophoblast cells that occur during pregnancy.
by Cal Crilly, reposted from LaLeva.org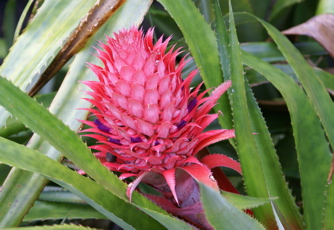 Pineapple flower – by Sepp Hasselberger  (Bromelain is obtained from unripe pineapples)
This is dedicated to Jacquie, my loving ex-mother in law who was a surrogate mum to me for a good decade. If I had known these things 5 years or so ago she might be still with us now but when I press send on this button here I know she'll be behind me with the biggest cheesiest grin and she'll be happy.
I've been giving dietary advice to various friends who have been passing this information on to relatives with differing forms of cancer. So far all the ones who have taken this advice are alive and also free of cancer, this is over a period of 3 years, 2 had surgery first and no more, one had surgery and chemo, one had chemo and radiation.
Writing this is an attempt to get a my interpretation of the cancer phenomena out of my head, to describe with proof what I think the data means and to come up with simple, affordable and doable self treatments that can be used with whatever other therapy is chosen. I'd like to see the work of oncologists who treat cancer get easier. I also want to see people get better and get on with their lives.
All I tell them to do is take up to 2 grams of Bromelain with meals. To get some form of Selenium food either from 3-4 Brazil nuts a day or from Broccoli and Garlic. I now recommend a bottle of Cod Liver Oil a week (I do this for psoriasis, it's not recommended if pregnant). I suggest Green Tea as Green Tea and Cod Liver Oil work synergistically. Some Lysine tablets, at least 3 grams worth with cancer. Vitamin C, preferably from food such as lemons though Sodium Ascorbate powder will do. I haven't advised people to take B3 or Nicotinamide but I now think I should.
So here's why… Continue reading Six Ways to Prevent and Treat Cancer with Nutrition by Cal Crilly →